Key Secondary Endpoint: 1,2
Change from baseline at 18 months vs placebo in Norfolk Quality of Life-Diabetic Neuropathy (QoL-DN)
Norfolk QoL-DN score is a patient-reported assessment that evaluates neuropathy in domains such as physical function, activities of daily living, symptoms, and autonomic neuropathy (score range -4 to 136)
Change in Norfolk QoL-DN score1,a-c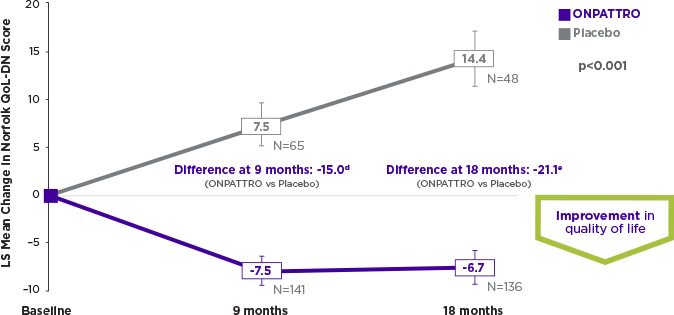 aNorfolk QoL-DN scores at baseline were 59.6 with ONPATTRO and 55.5 with placebo.1 bBars represent SEM. cN=number of evaluable patients. d95% CI: -19.8, -10.2.1 e95% CI: -27.2, -15.0.1
CI=confidence interval; LS=least squares; SEM=standard error of the mean.
Improvement in quality of life from baseline3,f,g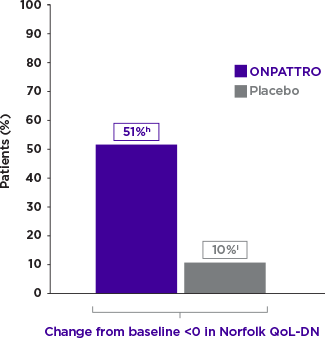 From New England Journal of Medicine, Adams D, Gonzalez-Duarte A, O'Riordan WD, et al, "Patisiran, an RNAi Therapeutic, for Hereditary Transthyretin Amyloidosis," 379(1). Copyright © 2018 Massachusetts Medical Society. Reprinted with permission from Massachusetts Medical Society.
fOdds ratio: 10.0 (4.4-22.5).3
gPercentages based on mITT population: ONPATTRO (n=148); placebo (n=77).1
h95% CI: 43, 59.3
i95% CI: 4, 17.3
mITT=modified Intention-To-Treat.
More than half of patients treated with ONPATTRO3 experienced improvement in quality of life
ONPATTRO demonstrated significant improvement in quality of life as measured by physical, functional, and social assessments.1,4